Tomorrow's Friday the 13th. But, to be honest, after all that I've gone through today, on an ordinary Thursday the 12th, I can face that day with a grin. It can hardly get worse.
It started in the morning, when I stood at the bus stop waiting for the bus to take me to work for about 25 minutes. Normally a bus shows up every 5 minutes. I should have taken that as a sign, bought myself a bottle of vodka and crawled into bed.
Next was the ticket desaster. I still have no ticket, but people around me either have tickets or say things like "I'm so glad I don't have tickets, it saves me a lot of money." after having planned to fly with me to London for weeks.
Anyway. Next was some weird things going on at work, I don't wanna talk about.
After that, I had a lot of strange problems with the guy who arranged the world premiere concert of IO, the band I work for. (More about IO very soon.)
When I finally managed to quit work and head to the supermarket to get myself one of those delicious-looking mango-passionfruit smoothies they had in their ads (I love passionfruit stuff. But I hate the peach-passionfruit stuff you can get everywhere) I should've known there would be no smoothies… but an old woman trying to pay with a 200 Euro-banknote at 7.55 pm in a shop that closes at 8 pm. Of course, the cashier didn't have enough change and had to cancel 20 items one by one…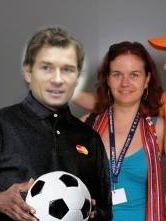 I decided to spend the rest of the evening sitting here without trying to cook something eatable (Otherwise I might burn the house down). I'll just do a bit of writing and hope my notebook will still be alive tomorrow.
Steve made found this picture of me and Jens Lehmann which definitely proofs I'm a WAG (Wives and girlfriends, for those amongst us not knowing this abbreviation) and need to attend the match Arsenal vs. Hamburg. Look at the nice black gloves Jens is wearing…!
(And look how discrete I keep myself in the background…)